Written by Rob Kelley | 11 January 2011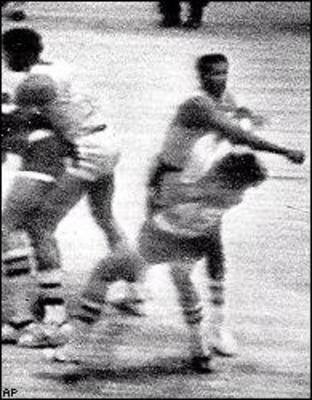 I suppose I should first clear up the images above. I in no way condone fighting in the NBA. Some of the brawls that have taken place on the court are some of the league's most embarrassing moments. They also, however, happen to be some of the most iconic and memorable. While many of them take place in the heat of action, others are created due to deeply heated rivalries that are formed out of competition, respect, and absolute hatred for one another.

I can simply throw some names out there, and all of you will immediately think about some of the greatest matchups in sports history. Yankees - Red Sox. Lakers - Celtics. UNC - Duke. Ohio State - Michigan. All of these rivalries feature some of the best games of all-time, as well as some very heated moments on the playing field. Whether you feel they have any place in sports or not, you undoubtedly remember each and every one of them.

The fact that these teams are involved in these historic rivalries causes the fans and media to pay greater attention to them when they play each other. When these teams play, it is all that you hear about everywhere, whether you like it or not. Teams in big markets always receive more media attention, and when they are in a rivalry with another team from a big market or with a huge fan following, they will both benefit.

That got me to thinking - which is rare, because very few things actually have that affect on me. I was thinking about rivalries, as well as one of my favorite sitcoms of all-time - Coach.




I remember one episode when Luther Van Dam (played by Jerry Van Dyke) was trying to convince head coach Hayden Fox (played by Craig T. Nelson) that Minnesota State needed a rival. He wanted to have someone to play against on Thanksgiving Day, when many great college football rivalries were played. He was upset that the Screaming Eagles didn't have one, so he attempted to create one. He called another coach at another school to ask if they wanted to be their rival. He was told that the other school already had a rival, and that they were happy with them. Even insults by Van Dam about the other coach's wife could not change the situation.

Now, I am not suggesting that teams should insult each other's wives or anything, but a rivalry would be great for good teams who do not receive as much attention as others who have strong rivalries. That takes me to our Oklahoma City Thunder.

I don't think that Scott Brooks should start placing phone calls to other teams in an attempt to insult them and talk them into a rivalry. And while the Thunder gave the Lakers a run for their money in the playoffs last season and earned the respect of many, we cannot push the Lakers for a rivalry because they already have a great one with Boston.

So who should we target?

If we look strictly from a geographical standpoint, then we really only have a few great options. One of them, however, happens to be a solid one.

The Dallas Mavericks are the closest team located to the Thunder. Now I know that they already play in the same state and conference as the San Antonio Spurs and Houston Rockets, but I think that we could steal them away.



I feel that we could always start by reasoning with them. We could tell them that it is in their best interest to begin a rivalry with us because we are young, talented, and guaranteed to be a force in the west for a long time. The Spurs are getting older and the Rockets just aren't as good.

And if that doesn't work, we could say that Dirk Nowitzki injured himself because we tweaked the floor so it would happen. He might believe that - you never know.

The Memphis Grizzlies and Denver Nuggets would make the most sense after Dallas geographically, but they just don't interest me. Besides, Oklahoma and Texas makes more sense.

After all, how could I write about an article that features rivalries and not mention one of the greatest?

I am of course talking about the Red River rivalry between the Oklahoma Sooners and Texas Longhorns!

So, ThunderBallers Nation, lets make this happen!!!

* Make sure to follow Kelley on Twitter @RobKelley24, as he was named one of the 1,000 Most Influential Sports Writers on Twitter in 2010.