Latest

Posts
Warning
: Creating default object from empty value in
/home4/derok6/public_html/thunderballers/modules/mod_raxo_allmode/helper.php
on line
238
Warning
: Creating default object from empty value in
/home4/derok6/public_html/thunderballers/modules/mod_raxo_allmode/helper.php
on line
238
Warning
: Creating default object from empty value in
/home4/derok6/public_html/thunderballers/modules/mod_raxo_allmode/helper.php
on line
238
Warning
: Creating default object from empty value in
/home4/derok6/public_html/thunderballers/modules/mod_raxo_allmode/helper.php
on line
238
Written by Rob Kelley | 11 February 2011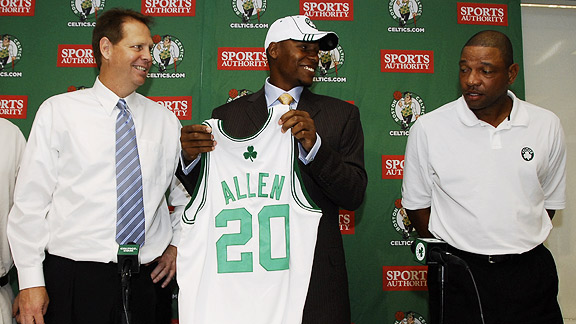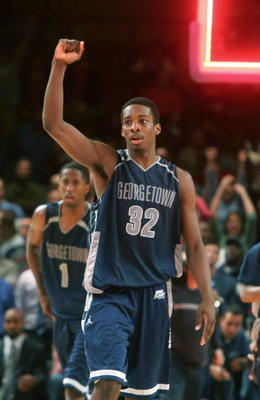 I find myself playing the "What If" game a lot, especially when it comes to the world of sports. When there are so many times where one split second can make a difference between winning and losing, certain off the court factors can have an even greater impact. It gets you to start thinking about what could have been, or what would have been, if certain decisions had been made differently.

To illustrate this story and demonstrate a key 'what if' in the NBA, I have to first start back over five years ago. This story, much like many tales, does not have a happy beginning. But I promise that if you continue reading until the end, then it will turn out greater in the long run for so many involved.

It takes place in New Orleans, Louisiana back in August of 2005. This had always been known as one of the most entertaining cities in the world. It was a happy-go-lucky type of place where people from all of the world visited to have a good time. But on August 29, everything would change in this great city forever.

Hurricane Katrina would hit land as a Category 3 on that dreadful Monday morning. It caused massive destruction throughout the state, as well as along the Gulf Coast from Florida through Texas. But the main damage took place in Louisiana, causing destructive flooding throughout the area. It even affected the Louisiana Superdome in New Orleans, which although suffered severe damage, was used as a "last resort shelter" for many people forced to evacuate their homes.

It would cost $185 million to repair and refurbish the Superdome enough to be declared fit to host an event. It was closed for over a year, forcing the New Orleans Saints of the NFL to play many of their games in San Antonio at the Alamodome and some at LSU Stadium. It also forced the New Orleans Hornets to play their games in Oklahoma City. The franchise was temporarily renamed the New Orleans/Oklahoma City Hornets as they played most of their games at the Ford Center, with a few still being played at the New Orleans Arena. It was very difficult for both of these organizations to be displaced for a year or so, but it was still far harder on the people of Louisiana.




The story does take a positive twist. The Saints returned to the Superdome on September 25, 2006, for a home showdown on Monday Night Football against the Atlanta Falcons. The dome was repaired, the fans came out in full, and the team went on to win Super Bowl 44 just over a year ago. The Saints certainly went marching back into the dome, and they were greeted like kings.

The Hornets went back to New Orleans, but good news would come out of it for fans of Oklahoma City. They proved to NBA commissioner David Stern that they could support an NBA franchise.

Now we have to go back a bit. The Seattle SuperSonics came into the NBA in 1967. The team won the 1978-1979 NBA Finals in five games by defeating the Washington Bullets (now Wizards). It remains the city's only professional championship in any sport even today. Dennis Johnson would be named MVP, and later enjoyed great success with the Boston Celtics, who will play a major part in our story a bit later.

Seattle would go on to have some great teams in the 1990's, led by Gary Payton and Shawn Kemp. They were defeated by the Chicago Bulls in their last appearance in the NBA Finals in 1996. The team would begin their transformation in 2007, when they were fortunate enough that the Portland Trailblazers selected Greg Oden from Ohio State with the number one pick in the 2007 NBA Draft, creating a situation where Kevin Durant from the University of Texas fell to them at number two.

I told anyone who would listen that Durant would be the superior pro, but thankfully for the Sonics, the Trailblazers felt otherwise, and have had to live with that decision ever since. Durant is a perennial All-Star, whereas Oden finds his name on the Inactive List more than anywhere else.

But that is now ancient history.

Oddly enough, even though Portland had the first pick and Seattle had the second, it was the Celtics who had the worst season of any team in the league, although the lottery did not work out well for them, as they were only able to win the number five selection in the Draft. With that pick, they selected Jeff Green out of Georgetown University.

But there had been rumblings out of Boston that general manager Danny Ainge had a "greater plan" throughout all of the team's recent struggles. During that offseason, his plan finally came together.

During the 2007 Draft, a huge trade was announced. It would see the Sonics trade Ray Allen and the draft rights to the team's number 35 pick, Glen "Big Baby" Davis from LSU, to the Celtics for Wally Szcerbiak, Delonte West and the draft rights to Boston's number five overall pick, Jeff Green.This trade would then lead the Celtics to trade a greater package of players to the Minnesota Timberwolves in exchange for Kevin Garnett.




The Celtics would go on to win the NBA championship that following season by defeating the Los Angeles Lakers, although the Lakers got their revenge by defeating the Celtics in last year's championship. Boston is still going strong, and they are going to contend for a title once again this season.

The Sonics, however, were not so fortunate. At least, not right off the bat.

Even with Durant and Green, the team would go on to have their worst season in franchise history. They lost 62 games that season.




Now, we have to go back again. In 2006 the SuperSonics were sold for $350 million to a group of Oklahoma City investors led by Clay Bennett, a move approved by NBA owners the following October. Terms of the sale required a "good faith" wait and see approach in Seattle. But after Bennett spent great time trying to gain support and funds for a new arena or major renovation of Key Arena, Bennett decided to move the franchise to Okalhoma City. The lease in Seattle expired, and the team left the name, colors and banners in the Emerald City in case they ever got another franchsie to play there.

But on September 3, 2008, the team was officially named the Oklahoma City Thunder. It did not go well for them in their first season in their new home.

But the fans continued to come out in droves. The players matured, Scott Brooks took over and the team played hard. They continue to build through the Draft, and we all know about the type of team that they have become.

That brings us to current day. Last night, Ray Allen broke Reggie Miller's all-time record for three pointers made. The Celtics lost the game - ironically enough to the Lakers - but Allen continues to play at a high level.




So, all is well that ends well, right? Perhaps.

The Celtics built their dynasty. The Sonics moved to Oklahoma City and their young stars continue to impress. The Hornets went back to New Orleans, and the city and it's people continue to rebuild. I guess the only truly disappointing part for anyone is the city of Seattle, who lost their NBA franchise.

That is what happened after a series of events brought us to where we we are today. But what if things didn't go down that way? What if a few things had not happened, causing so many drastic changes that altered so many events in the future? What would have happened if some of these scenarios never took place?

1. What would have happened if Hurricane Katrina never hit New Orleans? The Hornets never would have played any of their games in Oklahoma City. David Sterm never would have known if that city would support a franchise. The SuperSoincs may still be playing in Seattle. Or somehwhere else, if Bennett still purchased them. He may have worked out a deal to keep them where they were, ot he could have moved them somewhere else, since Oklahoma City may have not been in the running.

2. What if Boston had won the Draft Lottery in 2007? Would they have selected Durant or Oden? Where would the Sonics/Thunder have ended up in the draft, and who would they have drafted? Durant could be a Celtic, and the trade for Ray Allen never would have happened. They may have never even acquired Kevin Garnett. We would have a handful of teams who would have an entirely different landscape.

3. What would have happened if the television sitcom Frasier had not debuted until 2008? So many of their episodes revolved around the Sonics. Whether it was about Marty Crane rooting for them at home, or Niles Crane helping one of their fictional players or hitting a half court shot. What would that show have done if the Sonics were already in Oklahoma City?




So many things could have gone differently if even one event never happened. No one can predict the exact storyline of how things would have turned out, but it is always fun to wonder what may have turned out differently.

No one knows for sure. Ray Allen would still probably be the all-time three point leader. But which uniform would he be wearing today if things had turned out differently? Where would Kevin Garnett be playing? Or Kevin Durant? Or Wally Szcerbiak? Just kidding - no one cares about Wally.

No one can tell you with any great certainty, but it sure is fun to ask what if.

* Make sure to follow Kelley on Twitter @RobKelley24.





More

from Thunderballers
Warning
: Creating default object from empty value in
/home4/derok6/public_html/thunderballers/modules/mod_raxo_allmode/helper.php
on line
238
Warning
: Creating default object from empty value in
/home4/derok6/public_html/thunderballers/modules/mod_raxo_allmode/helper.php
on line
238
Warning
: Creating default object from empty value in
/home4/derok6/public_html/thunderballers/modules/mod_raxo_allmode/helper.php
on line
238
Warning
: Creating default object from empty value in
/home4/derok6/public_html/thunderballers/modules/mod_raxo_allmode/helper.php
on line
238
Warning
: Creating default object from empty value in
/home4/derok6/public_html/thunderballers/modules/mod_raxo_allmode/helper.php
on line
238
Warning
: Creating default object from empty value in
/home4/derok6/public_html/thunderballers/modules/mod_raxo_allmode/helper.php
on line
238
Warning
: Creating default object from empty value in
/home4/derok6/public_html/thunderballers/modules/mod_raxo_allmode/helper.php
on line
238
Warning
: Creating default object from empty value in
/home4/derok6/public_html/thunderballers/modules/mod_raxo_allmode/helper.php
on line
238